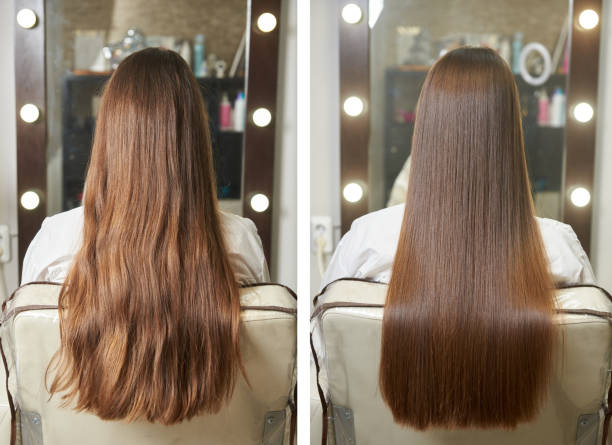 Hair fall is a normal occurrence and usually nothing to be overly concerned about. Most of us lose around 80 strands of hair per day, so it's not unusual to see hair on your brush or in the drain. If you're shedding significantly more than this, there may be an underlying cause. Everyone wants healthy, strong hair that symbolizes beauty and strength. However, pesky issues like hair loss or breakage can stand in the way of achieving this goal. Hair problems can be particularly hard to tackle since a variety of factors – such as stress, diet changes, hormonal shifts or medical conditions – could all potentially contribute to these issues.
Hair fall is a very common issue that many people struggle with. Thankfully, Alderwood hair treatment salon offers several affordable and natural treatments that can help to reduce or prevent hair loss. Below, we will discuss some of the most popular hair repair treatments.
Coconut milk is not only a delicious way to enjoy the benefits of coconut, but it is also an excellent natural hair treatment. This product helps create the perfect foundation for healthy hair! By applying it directly to your scalp and locks, you can give yourself a boost towards longer-lasting strands with less breakage. Coconut milk offers essential nourishment for your hair with a powerhouse of vitamins E and B, as well as rich fatty acids to help condition the strands. Enjoy healthy tresses from this natural source!
For a simple yet powerful hair repair solution, turn to aloe vera! This natural ingredient offers restorative benefits for damaged and dry locks. This natural ingredient contains enzymes that can help to repair dead skin cells on the scalp, promoting healthier hair growth. To use, simply apply the gel directly to the scalp and leave it in for at least one hour. You can then wash it out with your regular shampoo. For best results, use this treatment two or three times per week.
A scalp massage is an excellent way to soothe the scalp and improve the condition of your hair. By massaging the scalp, you can increase blood circulation to the hair follicles, which encourages healthy hair growth. In addition, a scalp massage can arrest breakage and hair loss by making the hair follicles stronger. As a result, a scalp massage is an excellent Hair Repair Treatment that can help you achieve healthy, beautiful hair.
Keeping your locks healthy and strong can be easy by following these effective, preventative tips: nourish with natural oils, eliminate heat styling tools, brush correctly – start from the ends!
1. Use a Hair Repair Treatment: Tired of your Hair being brittle and prone to breaking? Discover invigorating hair repair treatments to restore moisture, giving you beautiful locks that last.
2. Avoid using heat: Heat styling can lead to weakened hair, making it more susceptible to breakage. To ensure your locks stay beautiful and healthy, make sure you use a heat protectant spray before any thermal tool is used on them!
3. Be gentle with your Hair: Treat your Hair gently, avoiding harsh brushing or combing. Also, avoid putting tight styles, such as ponytails, in your Hair.
4. Eat healthy: Eating a healthy diet can help to improve the condition of your hair, making it less likely to break. Be sure to include plenty of proteins, vitamins, and minerals in your diet.
5. Get regular trims: Getting regular trims can help to get rid of split ends
Hair is one of the most important parts of our bodies. Our clothing serves a dual purpose: providing us with protection from the environment, as well as self-expression of our individual style. However, hair can also be susceptible to breakage and shedding, especially if it is not properly cared for. One way to help prevent breakage and shedding is through visiting a salon that offers healthy hair repair treatments.
Alderwood best hair treatment for damaged hair can help you repair damage and eventually prevent further damage that might happen. Alderwood hair treatment salon, Tiana Styles' Organic Hair Studio only uses high quality hair care products which can be used on all types of hair, including natural, relaxed, and color-treated hair. They have Alderwood best hair treatment for damaged hair and they offer a variety of formulas, so you can choose the one that best meets your needs.
If you are searching for the best salon near Alderwood that can cater your needs, visit Tiana Styles' Organic Hair Studio at 18205 Alderwood Mall Parkway Ste 104
Lynnwood, WA 98037 . Whether you are looking to prevent breakage and shedding or you are already dealing with damaged hair, look no further because Tiana Styles' Organic Hair Studio  got you covered. If you have queries like how much is the Alderwood hair treatment price, you can contact them today at (833) 681-2400 or visit their website at www.organichairstudios.com to schedule an appointment. 
GMB LINK: https://goo.gl/maps/S1RfJ2CFKAbKtsTp6