How to Give Yourself a Neck or Bang Trim In Between Haircuts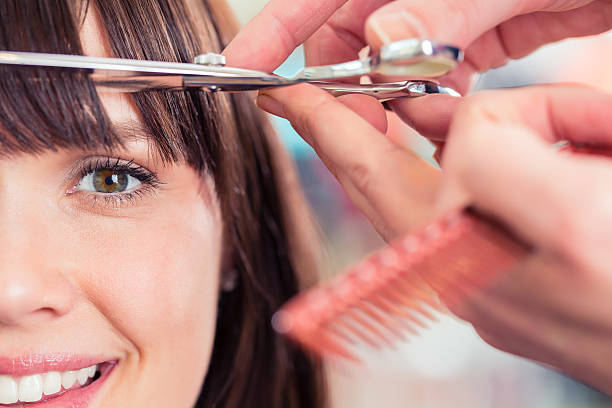 No one likes feeling overgrown, especially when it comes to our hair. But sometimes, life gets in the way of our regular haircut schedule. Whether you've got a last-minute event to attend or you're just trying to stretch out your last haircut for a few extra weeks, giving yourself a neck or bang trim haircut Alderwood is a great way to tidy things up and avoid that awkward in-between stage. Here's a quick guide on how to do it!
Start with clean, dry, and styled hair. This will help you get an idea of how much length you actually need to take off. Grab a small section of hair and hold it taut. Using sharp scissors, make tiny snips into the ends of the hair, working your way around the section until you're happy with the length. When in doubt, err on the side of caution – you can always take more off, but you can't put it back on! Repeat this process around the entire perimeter of your head, taking care to be extra careful near the ears.
For bang trim Alderwood, start by lightly misting them with water (this will help prevent them from getting too blunt). Comb them straight down over your forehead, then snip small pieces off the ends until they're at the desired length. If you want them tapered or wispy, make sure to angle your scissors slightly as you snip. Once again, when in doubt, err on the side of caution – remember, you can always take more off but you can't put it back on!
How much should you expect to pay for a bang trim?
The cost of a bang trim can vary depending on where you go and where you live. In general, you can expect to pay anywhere from $10 to $30 for a bang trim cost Alderwood at most hair salons. Some places may offer bang trims as a complimentary service for regular clients, so it's always a good idea to ask. While it may seem like a small expense, investing in regular bang trims can help keep your overall hairstyle looking polished and well-maintained.
Giving yourself a neck or bang trim Alderwood is a great way to tide yourself over until your next haircut appointment. Take your time and take extra care: it's better to be overly cautious than rush through things.
Looking for a quick and affordable way to freshen up your hairstyle? Book a bang trim haircut Alderwood appointment at Tiana Styles' Organic Hair Studio today in Alderwood! Our experienced stylists specialize in creating beautiful, customized cuts and trims that enhance your natural beauty. With our use of organic and eco-friendly products, you can feel confident that you're getting a healthy and sustainable service. Visit our website at www.organichairstudios.com or call us at (833) 681-2400 to schedule your bang trim appointment today. Let us help you look and feel your best!
GMB LINK: https://goo.gl/maps/S1RfJ2CFKAbKtsTp6